Moving from v2.2 to v3.0rc
From Ocelot
In version 3.0 we made some changes to the way in which some of the configuration files are stored and loaded.
In version 3.0 we wanted to make it easy for a user to setup combinations of plugins and configurations (e.g. LQA Grid) and then swap them together. For example, if I am working on a translation job then I may have a certain plugin I want to use and some translation memory configuration. Then when I want to do a review job I may have a different plugin and a specific LQA Grid configuration. So it is now possible to group my translation setup and separately group my review setup and switch between them.
A side effect of moving from v2.2 to v3.0 is that Ocelot will want to create and load a default configuration.
When running Ocelot 3.0 for the first time it will display the following dialog: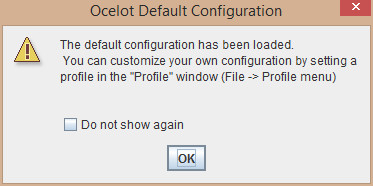 Simply click the OK button. Ocelot will then continue to load.